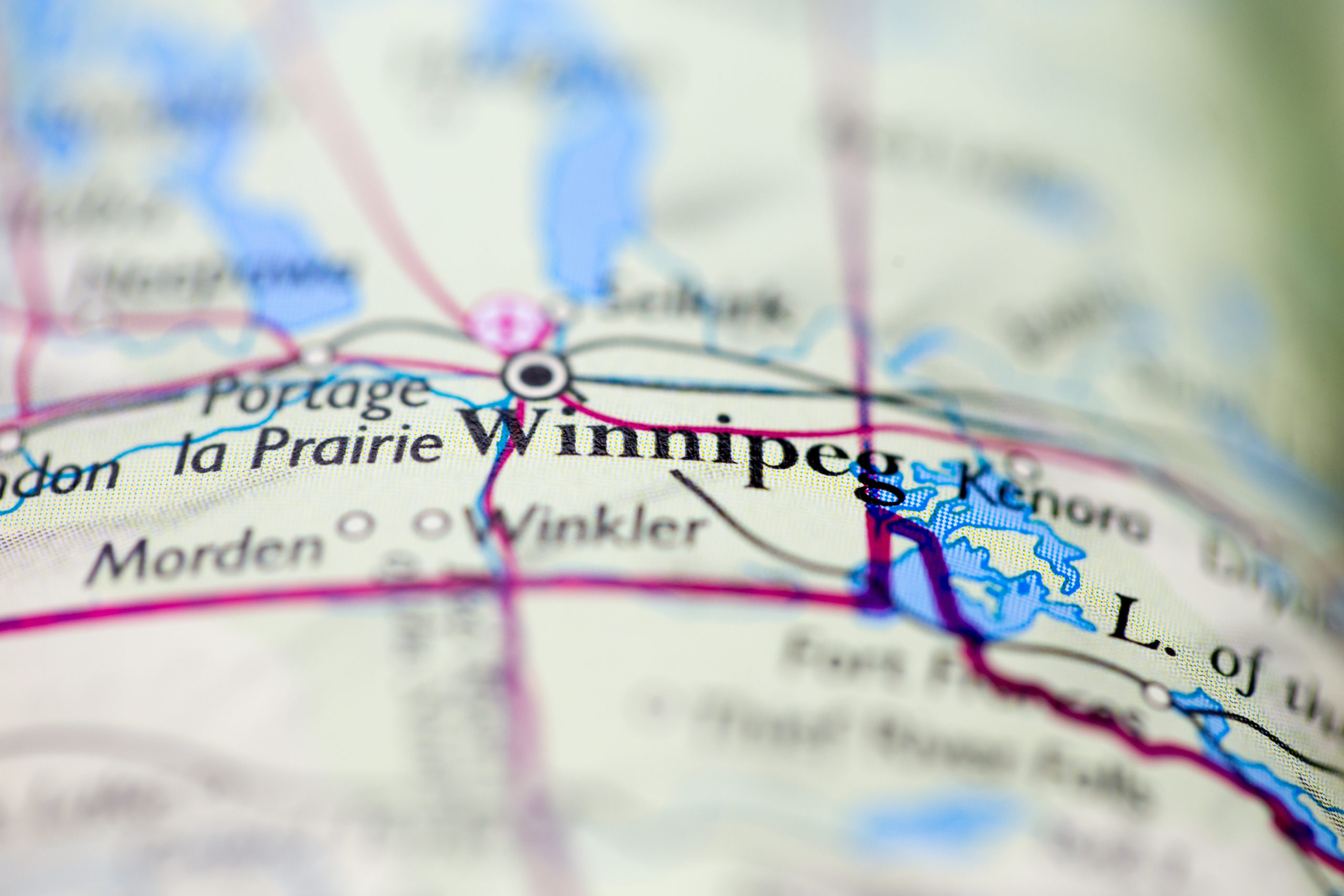 MAHCP members resoundingly approved a new model for Executive Council representation at the Special Meeting of the membership held on January 26, 2021. Our Constitution now states that "Executive Council shall establish, in the best interest of the Association, the number of Districts, District composition, and the number of Directors for each District."
MAHCP's governing council now has a fixed number of seats for Directors, a total of 16. New Districts are based primarily on geography, with consideration given to other factors such as number of members in each District and driving distances.
Each District comprises members at distinct MAHCP sites or employers, with Health Sciences Centre and St. Boniface Hospital divided into more than one District due to the number of members at those sites. See below for District names and details to find out which district you are in, and contact info@mahcp.ca or 204-772-0425 with any questions.
Districts
District 1
Northern – East
District 2
Northern – West
District 3
PMH – North
District 4
PMH – South
District 5
Southern
District 6
Interlake – Eastern
District 7
Winnipeg – Northeast
District 8
Winnipeg – North
District 9
Winnipeg – Notre Dame
District 10
Winnipeg – West
District 11
Winnipeg – Southeast
District 12
Winnipeg – South
District 13
Winnipeg – Central 1
District 14
Winnipeg – Central 2
District 15
Winnipeg – Central 3
District 16
Winnipeg – Central 4
District Details
| District number | District name | Sites/Employers |
| --- | --- | --- |
| District 1 | Northern – East | Churchill Health Centre |
| District 1 | Northern – East | Gillam EMS |
| District 1 | Northern – East | Gillam Hospital |
| District 1 | Northern – East | Grand Rapids Nursing Station/EMS |
| District 1 | Northern – East | Snow Lake EMS |
| District 1 | Northern – East | Snow Lake Health Complex |
| District 1 | Northern – East | Hope North Recovery, Thompson |
| District 1 | Northern – East | Northern Spirit Manor |
| District 1 | Northern – East | Thompson Community Health Services |
| District 1 | Northern – East | Thompson General Hospital |
| District 1 | Northern – East | Wabowden Health Centre |
| District 1 | Northern – East | Leaf Rapids Health Centre |
| District 1 | Northern – East | Lynn Lake EMS |
| District 1 | Northern – East | Lynn Lake Hospital |
| District 2 | Northern – West | Cranberry Portage EMS |
| District 2 | Northern – West | Easterville EMS |
| District 2 | Northern – West | Flin Flon EMS |
| District 2 | Northern – West | Rosaire House |
| District 2 | Northern – West | The Pas Community Health Program |
| District 2 | Northern – West | The Pas EMS |
| District 2 | Northern – West | The Pas Health Complex |
| District 2 | Northern – West | Flin Flon General Hospital |
| District 3 | Prairie Mountain Health – North | Medical Transport Coordination Centre (MTCC) |
| District 3 | Prairie Mountain Health – North | Birtle Health Centre |
| District 3 | Prairie Mountain Health – North | Dauphin Regional Health Centre |
| District 3 | Prairie Mountain Health – North | Rehab Centre for Children – Dauphin |
| District 3 | Prairie Mountain Health – North | Erickson Health Centre |
| District 3 | Prairie Mountain Health – North | Gilbert Plains Health Centre |
| District 3 | Prairie Mountain Health – North | Grandview Health Centre |
| District 3 | Prairie Mountain Health – North | Hamiota Health Centre |
| District 3 | Prairie Mountain Health – North | Kinosota EMS |
| District 3 | Prairie Mountain Health – North | Mafeking EMS |
| District 3 | Prairie Mountain Health – North | McCreary/Alonsa Health Centre |
| District 3 | Prairie Mountain Health – North | Minnedosa Health Centre |
| District 3 | Prairie Mountain Health – North | Neepawa Health Centre |
| District 3 | Prairie Mountain Health – North | Rivers Health Centre – PMH |
| District 3 | Prairie Mountain Health – North | Roblin District Health Centre – PMH |
| District 3 | Prairie Mountain Health – North | Rossburn District Health Centre |
| District 3 | Prairie Mountain Health – North | Russell Hospital |
| District 3 | Prairie Mountain Health – North | Shoal Lake/Strathclair Health Centre |
| District 3 | Prairie Mountain Health – North | Ste. Rose General Hospital |
| District 3 | Prairie Mountain Health – North | Swan Valley Health Centre |
| District 3 | Prairie Mountain Health – North | Waterhen EMS |
| District 3 | Prairie Mountain Health – North | Winnipegosis District Health Centre |
| District 4 | Prairie Mountain Health – South | Boissevain Health Centre |
| District 4 | Prairie Mountain Health – South | Carberry Plains Health Centre |
| District 4 | Prairie Mountain Health – South | Fairview/Cartwright |
| District 4 | Prairie Mountain Health – South | Deloraine Health Centre |
| District 4 | Prairie Mountain Health – South | Glenboro Health Centre |
| District 4 | Prairie Mountain Health – South | Tri-Lake Health Centre (Killarney) |
| District 4 | Prairie Mountain Health – South | Melita District Health Centre |
| District 4 | Prairie Mountain Health – South | Oak Lake EMS |
| District 4 | Prairie Mountain Health – South | Souris Health Centre |
| District 4 | Prairie Mountain Health – South | Tiger Hills Health Centre (Treherne) |
| District 4 | Prairie Mountain Health – South | Virden Hospital |
| District 4 | Prairie Mountain Health – South | Wawanesa Health Centre |
| District 4 | Prairie Mountain Health – South | Brandon Clinic |
| District 4 | Prairie Mountain Health – South | Brandon Regional Health Centre |
| District 4 | Prairie Mountain Health – South | CancerCare Manitoba – Brandon |
| District 4 | Prairie Mountain Health – South | Lab Scientists – Westman Lab |
| District 4 | Prairie Mountain Health – South | Rehab Centre for Children – Brandon |
| District 4 | Prairie Mountain Health – South | Sexuality Education Resource Centre-Brandon |
| District 4 | Prairie Mountain Health – South | Westman Lab |
| District 5 | Southern | MacGregor EMS |
| District 5 | Southern | Altona Health Centre |
| District 5 | Southern | Carman Hospital |
| District 5 | Southern | Rock Lake Hospital (Crystal City) |
| District 5 | Southern | Elie EMS |
| District 5 | Southern | Emerson Health Centre |
| District 5 | Southern | Gladstone Health Centre |
| District 5 | Southern | Île-des-Chênes EMS |
| District 5 | Southern | Pembina Manitou Health Centre |
| District 5 | Southern | Morris General Hospital |
| District 5 | Southern | Notre Dame Health Centre |
| District 5 | Southern | Oak Bluff EMS |
| District 5 | Southern | Portage District General Hospital |
| District 5 | Southern | Portage EMS (Southport) |
| District 5 | Southern | Desalaberry District Health Centre (St Pierre) |
| District 5 | Southern | Ste Anne Hospital |
| District 5 | Southern | Bethesda Regional Health Centre (Steinbach) |
| District 5 | Southern | Lorne Memorial Hospital (Swan Lake) |
| District 5 | Southern | Swan Lake EMS |
| District 5 | Southern | Vita & District Health Centre |
| District 5 | Southern | Vita EMS |
| District 5 | Southern | Boundary Trails Health Centre (Winkler) |
| District 5 | Southern | Eden Mental Health Centre (Winkler) |
| District 5 | Southern | St Claude Health Centre |
| District 6 | Interlake-Eastern | Beausejour Hospital |
| District 6 | Interlake-Eastern | Bissett EMS |
| District 6 | Interlake-Eastern | Lac du Bonnet District Health Centre |
| District 6 | Interlake-Eastern | Kin Place Primary Health Centre (Oakbank) |
| District 6 | Interlake-Eastern | Pinawa Hospital |
| District 6 | Interlake-Eastern | Pine Falls EMS |
| District 6 | Interlake-Eastern | Pine Falls Hospital |
| District 6 | Interlake-Eastern | Selkirk EMS |
| District 6 | Interlake-Eastern | Selkirk Regional Health Centre |
| District 6 | Interlake-Eastern | Whitemouth District Health Centre |
| District 6 | Interlake-Eastern | Arborg & District Health Centre |
| District 6 | Interlake-Eastern | Lakeshore Hospital (Ashern) |
| District 6 | Interlake-Eastern | EM Crowe Memorial Hospital |
| District 6 | Interlake-Eastern | Gimli Community Health Centre |
| District 6 | Interlake-Eastern | Gypsumville EMS |
| District 6 | Interlake-Eastern | Lundar PCH |
| District 6 | Interlake-Eastern | Riverton EMS |
| District 6 | Interlake-Eastern | St Laurent Community Health Centre |
| District 6 | Interlake-Eastern | Stonewall & District Health Centre |
| District 6 | Interlake-Eastern | Hunter Memorial Health Centre (Teulon) |
| District 7 | Winnipeg – Northeast | West St Paul EMS |
| District 7 | Winnipeg – Northeast | 345 De Baets |
| District 7 | Winnipeg – Northeast | Access Transcona |
| District 7 | Winnipeg – Northeast | Bethania PCH |
| District 7 | Winnipeg – Northeast | Concordia Hospital |
| District 7 | Winnipeg – Northeast | Tissue Bank Manitoba |
| District 7 | Winnipeg – Northeast | Access River East |
| District 7 | Winnipeg – Northeast | 80 Sutherland Ave |
| District 7 | Winnipeg – Northeast | Aboriginal Health & Wellness Centre |
| District 7 | Winnipeg – Northeast | Access Downtown |
| District 7 | Winnipeg – Northeast | Hip & Knee Resource Centre |
| District 8 | Winnipeg – North | Manitoba Adolescent Treatment Centre (all sites) |
| District 8 | Winnipeg – North | Inkster Community Office |
| District 8 | Winnipeg – North | Nor'West Co-op |
| District 8 | Winnipeg – North | Seven Oaks Community Office |
| District 8 | Winnipeg – North | Seven Oaks General Hospital |
| District 8 | Winnipeg – North | SMILE Plus |
| District 8 | Winnipeg – North | Mount Carmel Clinic |
| District 9 | Winnipeg – Notre Dame | Rehab Centre for Children – SSCY |
| District 9 | Winnipeg – Notre Dame | SSCY – 1155 Notre Dame |
| District 9 | Winnipeg – Notre Dame | Community Therapy Services |
| District 9 | Winnipeg – Notre Dame | Dynacare |
| District 10 | Winnipeg – West | Deer Lodge Centre |
| District 10 | Winnipeg – West | Grace Hospital |
| District 10 | Winnipeg – West | Occupational & Environment Health & Safety |
| District 10 | Winnipeg – West | OESH-Safe Pat Handle |
| District 10 | Winnipeg – West | St James-Assiniboia Community Office |
| District 10 | Winnipeg – West | Access Winnipeg West |
| District 11 | WPG – Southeast | St. Boniface Hospital non-Diagnostics* |
| District 11 | WPG – Southeast | Centre de santé |
| District 11 | WPG – Southeast | 1001 Corydon |
| District 11 | WPG – Southeast | Access St Boniface |
| District 11 | WPG – Southeast | Access St Vital |
| District 11 | WPG – Southeast | Actionmarguerite |
| District 11 | WPG – Southeast | Breast Health Centre |
| District 11 | WPG – Southeast | Midwives – Birth Centre |
| District 11 | WPG – Southeast | Riverview Health Centre |
| District 12 | WPG – South | St. Boniface Hospital Diagnostics (Laboratory, Cardiology, EEG, MRI, Nuclear Medicine, Radiology, Sonography) |
| District 12 | WPG – South | Access Fort Garry |
| District 12 | WPG – South | Pan Am Clinic |
| District 12 | WPG – South | Victoria General Hospital |
| District 12 | WPG – South | Southeast PCH |
| District 12 | WPG – South | Long Term Care Access Centre |
| District 13 | Winnipeg – Central 1 | Centralized Services |
| District 13 | Winnipeg – Central 1 | Health Services on Elgin |
| District 13 | Winnipeg – Central 1 | Northern Connections Medical Centre |
| District 13 | Winnipeg – Central 1 | 400 Logan Ave – PACT |
| District 13 | Winnipeg – Central 1 | Community Health & Social Services Centre 755 Portage Ave |
| District 13 | Winnipeg – Central 1 | Crisis Stabilization Unit |
| District 13 | Winnipeg – Central 1 | Klinic Inc. |
| District 13 | Winnipeg – Central 1 | Misericordia Health Centre |
| District 13 | Winnipeg – Central 1 | Nine Circles Community Health Centre |
| District 13 | Winnipeg – Central 1 | Sexuality Education Resource Centre |
| District 13 | Winnipeg – Central 1 | Winnipeg Clinic |
| District 13 | Winnipeg – Central 1 | Women's Health Clinic |
| District 14 | Winnipeg – Central 2 | HSC Laboratory |
| District 14 | Winnipeg – Central 2 | HSC Pharmacy |
| District 15 | Winnipeg – Central 3 | HSC Diagnostics (Cardiology, EEG, MRI, Nuclear Medicine, Radiology, Radiopharmacy, Sonography) |
| District 15 | Winnipeg – Central 3 | Adult Transport |
| District 15 | Winnipeg – Central 3 | Psych Health Centre (771 Bannatyne) |
| District 15 | Winnipeg – Central 3 | Canadian Blood Services |
| District 15 | Winnipeg – Central 3 | Children's Hospital |
| District 15 | Winnipeg – Central 3 | Crisis Response Centre |
| District 15 | Winnipeg – Central 3 | Manitoba Clinic |
| District 15 | Winnipeg – Central 3 | Manitoba Possible |
| District 16 | Winnipeg – Central 4 | HSC Allied Health – General/Rehab** |
*All non-Diagnostics Allied Health Employees at St. Boniface Hospital
** All other Allied Health employees at HSC General and Rehab facilities