Congratulations to the MAHCP AGM Prize Draw Winners!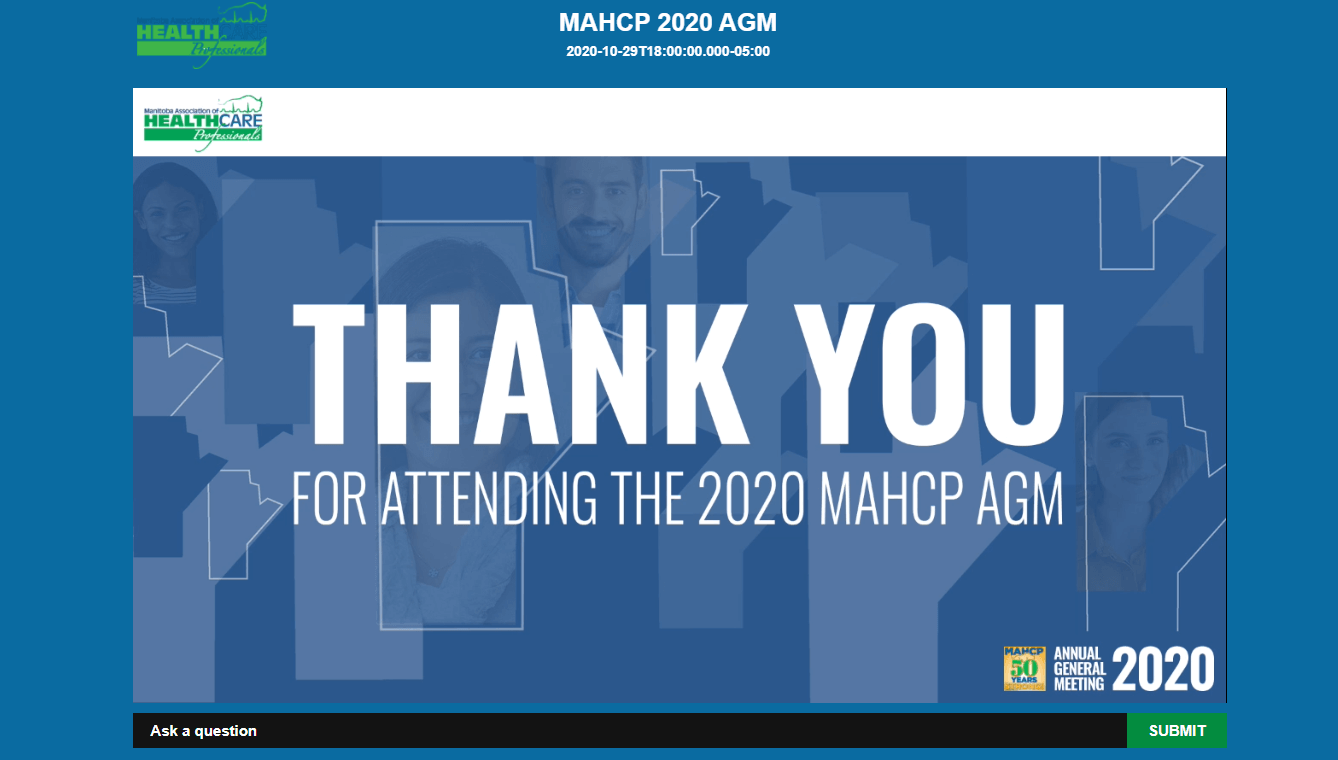 We would like to thank all those MAHCP members who attended yesterday's MAHCP AGM, our first virtual AGM!
And now we'd like to announce the winners of the MAHCP AGM Prizes, they were selected by random number generator and list is below. CONGRATULATIONS!
There will be another chance for attendees to win a prize, as an evaluation survey will be sent out next week and those who answer it will be entered.
Also, a big thank you to our prize donors and providers: Canad Inns, Corus Entertainment, Electric Impression, Maloway & Eliason Insurance Agencies and Travel Center Ltd. and Visions on Regent Avenue in Winnipeg.
Note to the winners: we will be getting in touch with you over the next week or two for how best to get you your prizes, due to the new restrictions being implemented. On Monday, Nov. 2, level red is coming for the Winnipeg Metropolitan area and level orange for the rest of Manitoba (that wasn't orange already).
TWS Wireless Mini Earphones – Sylvie Berard
TWS Wireless Mini Earphones – Glen Espino
TWS Wireless Mini Earphones – Jane Bugeja
Elink Dashcam with Night Vision – Graham Brown
Elink Dashcam with Night Vision – Cathy Langit
Canad Inns $25.00 gift card – Kim Baessler
RCS Insurance Gift basket – Sonia Wolfe
Cobra Wasp 4K Sports Action Camera – Julie Brown
Cobra Wasp 4K Sports Action Camera – Leanne Janzen
Amazfit Arc Activity & HR Fitness – Ashlee Lagimodiere
Maloway & Eliason Ins. Queen Size Comforter Set – Phil Dao
Frigidaire 1.7 Litre Digital Air Fryer – Matthew Jasper
Ecoxgear Refurb Slate Grey – Joelle Brown
Ecoxgear Refurb Slate Grey – Margret Thomas
AMAZON Firestick TV Streaming Device – Susana Hernandez
AMAZON Firestick TV Streaming Device – Alan Stern
AMAZON Firestick TV Streaming Device – Janelle Sylvester
AMAZON Firestick TV Streaming Device – Colette Klym
Frigidaire Retro Style Popcorn – Hazel Abril
Cuisinart Compact Air Fryer Oven – Wayne Chacun
$100.00 Pre-paid Master Card – Michael David
$100.00 Pre-paid Master Card – Jill Woods
$100.00 Pre-paid Master Card – Jena Teopaco
$100.00 Pre-paid Master Card – Sharleen Barker
$100.00 Pre-paid Master Card – Tracy Furst
$100.00 Pre-paid Master Card – Linda Gray
$100.00 Pre-paid Visa Card – Kim Rempel
$100.00 Pre-paid Visa Card – Bill Gibb
$100.00 Pre-paid Visa Card – Sherri Pinkerton
$100.00 Pre-paid Visa Card – Fawn Bouskill
Soundstage Bluetooth 5.0 True – Shayleen Goretzki
Hisense 32" 720P Roku LED TV – Dustin Czmola
Soundstage Bluetooth/Active-Noise – Bernard Cox
Klipsch Soundbar & Wireless Sub – Jaime Pfeiffer
Dyson V7 Motorhead Origin Cordless Vacuum – Shannon Bittner
Dyson V7 Motorhead Origin Cordless Vacuum – Maria Gabriel
Hisense 50" 4K UHD Android Smart LED TV – Barbara Kenton
Hisense 50" 4K UHD Android Smart LED TV – Christopher Dupont