Emoji week #5 winners:
Lena Dib
Majid Saadatmand
Tara Fillion
Jonathan Hall
Melanie Wilson
Emoji Week 5 answers: 
1. Hand Clap – Fitz and the Tantrums
2. Red Red Wine – UB40
3. Diamonds – Sam Smith
4. Don't let the sun go down on me – Elton John and George Michael
5. Night Fever – Bee Gees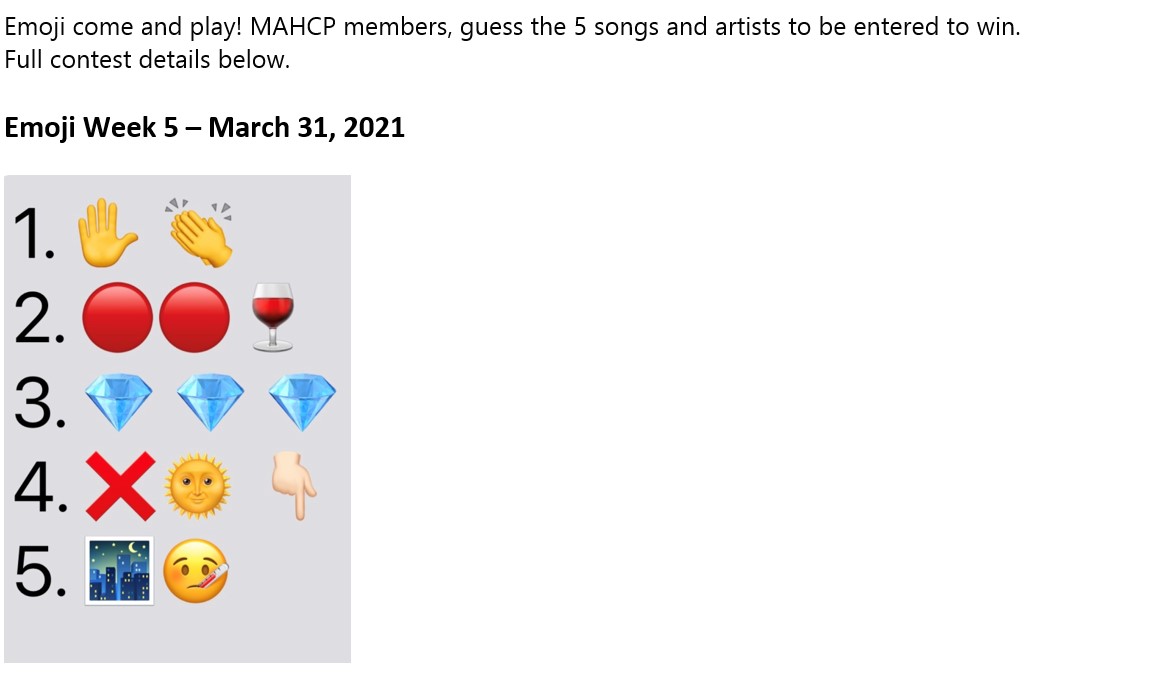 MAHCP's Member Engagement Committee wants to beat the Mid-week Blues away with a fun contest. For the month of March every Wednesday we will be posting on Facebook and www.MAHCP.ca 5 songs titles using Emojis.
Correctly answer each SONG NAME and ARTIST to be entered in that week's draw for one of 5 $25.00 Gift Cards to be awarded each week. One entry for each correct answer, you can only win 1 time per week.
You must be an MAHCP member in good standing and include your place of work, occupation and contact information on your entry.
Entries must be EMAILED to mahcpcontest@mahcp.ca by Friday 5:00 pm of each week. Winners will be announced the following week.
Have fun and Rock on!
Week #4 answers:
1. Wheat Kings – The Tragically Hip
2. America Pie – Don McLean
3. Zombie – The Cranberries
4. Wild Horses – The Rolling Stones
5. Black Hole Sun – Soundgarden
Week #4 winners:
Karly Hammond
Trana Nagy
Geoffrey St. Pierre
Allison Shandroski
Louise Spence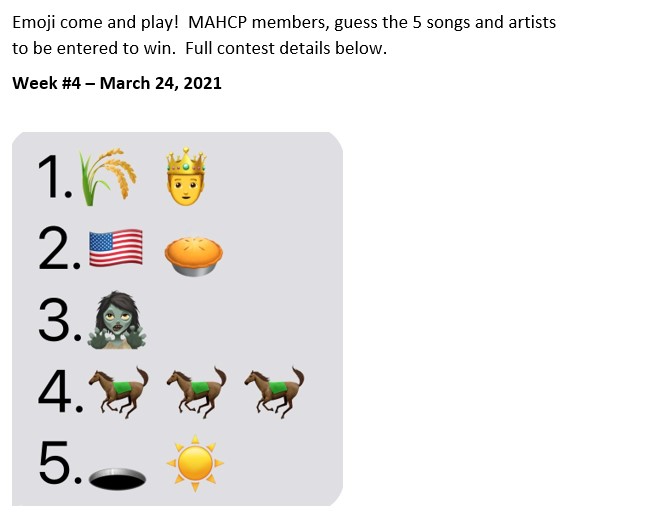 Week #3 answers:
1. Ice Ice Baby – Vanilla Ice
2. Rock Lobster – B-52's
3. Love and Marriage – Frank Sinatra
4. Call me maybe – Carly Rae Jepsen
5. Eye of the Tiger – Survivor
Winners for Week #3
Procelita Tulio
Colette Klym
Theresa San Gabriel
Jeannine Crossman
Regina Thorne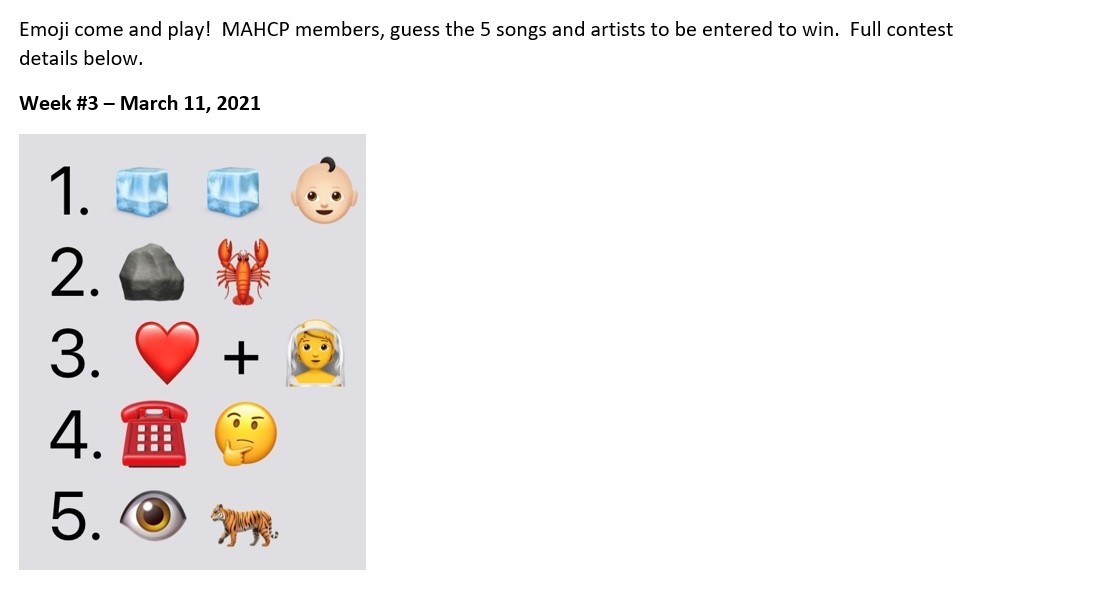 Week #2 answers
1. Circles – Post Malone
2. Rocketman – Elton John
3. Shut Up and Dance – Walk The Moon
4. Burning Down the House – Talking Heads
5. Kiss from a Rose – Seal
Winners for week #2
Kathleen Honke
Renee France Rouget
Joanna Robb
Rica Avinante
Lynn Cenerini Coughlan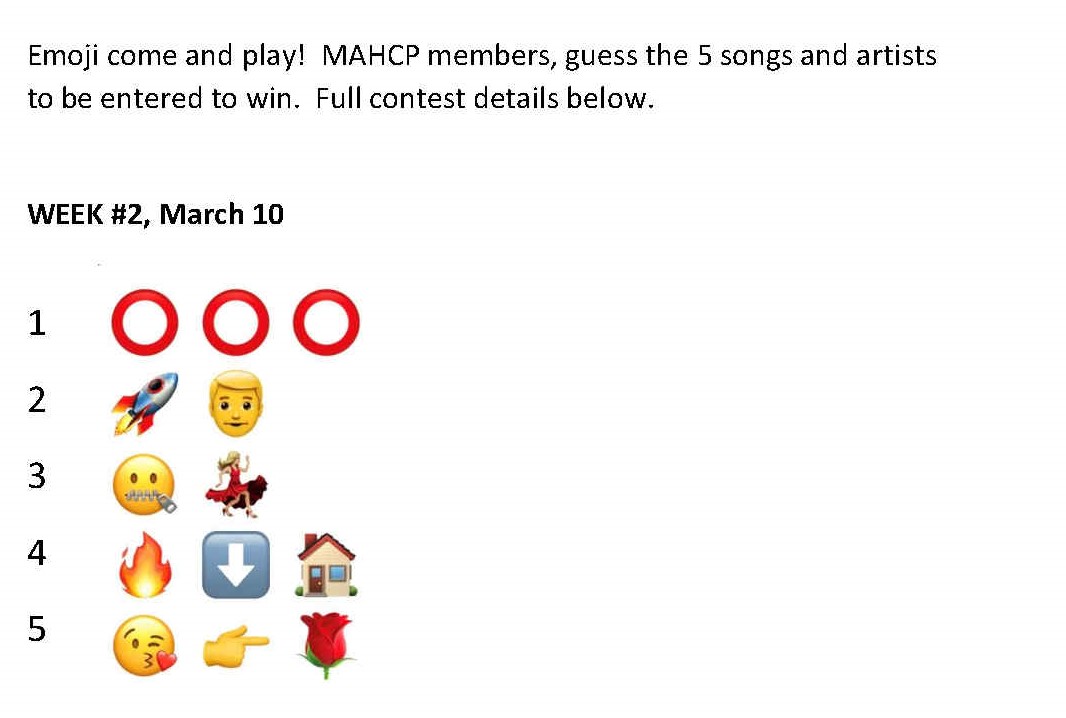 WEEK #1 Answers
1) Love song for a vampire- Annie Lennox
2) Happy- Pharrell
3) Purple Rain- Prince
4) Genie in a Bottle- Christina Aguilera
5) Dance Monkey- Tones and I
Congratulations Week #1 Winners!
Lesa Nordick
Rachel Martens
Shelley Kowalchuk
Tara Scott
Joyce Edmonds